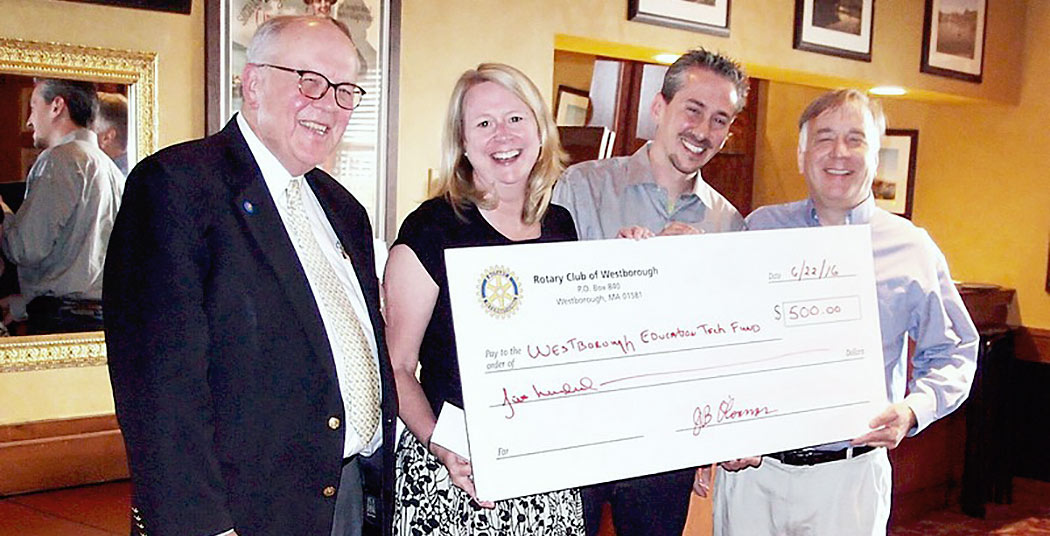 WETF PRESS RELEASE  | For Immediate Release | June 22, 2016
Rotary Club of Westborough Helps Hastings Elementary School Complete a Campaign for iPad's by donating $500 to WETF.
On June 22nd 2016 The Rotary Club of Westborough invited Adam Halem, President of The Westborough Education Technology Fund(WETF) to their monthly meeting/lunch. At that meeting the Rotary Club made a generous donation of $500.00 towards the goal of helping complete the Hastings Elementary School's iPad campaign. 
At the meeting Rotary members Jim O'Connor (President), Betsy Moquin (Giving Chair), and Gerry Gross, President-Elect presented Adam Halem with the "Giant" check. Adam then presented to the group. He explained how the donation would be used and discussed the general mission and goals of the Westborough Education Technology Fund.
WETF, the Westborough Public Schools Administration, and Leigh Becker, Principal of Hastings Elementary School all send there thanks for the donation the Rotary Club made.
Children in the 3rd grade at Hastings Elementary School will be using the iPads starting next school year in September of 2016. Learn more about the campaign here.
You are encouraged to learn how the Rotary Club is not only helping locally but internationally as well. Learn how you too can get involved with the Rotary club. To learn more about the Rotary Club of Westborough please visit them here.
About the Westborough Education Tech Fund (www.westboroughetf.org)
The Westborough Education Tech Fund is a volunteer run, non-profit created to support the advancement of education in Westborough schools through the use, support, integration, and public awareness of educational technology. The founders and members look to raise the standards of technology and tech education in the schools and in the lives of students in grades K-12 and to building community support and involvements in technology education efforts within the schools.
The Westborough Education Tech Fund is a non-profit organization with 501(c)(3) status from the IRS. Donations are tax deductible to the extent allowed by law and regulation.
Contact
Adam Halem, President, Westborough Education Technology Fund (WETF)
President@westboroughetf.org