Gibbons 7th Grade LEGO Robotics Campaign
By contributing to this campaign you will help launch the only required engineering and computer science course in Westborough.
"I am thrilled to offer this new course because it will teach our students skills they need to thrive in our rapidly changing technologically complex world."Dr. Daniel Mayer, WPS's Director of Curriculum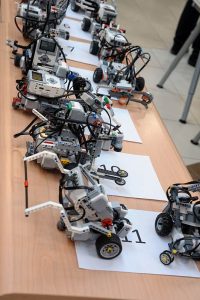 WETF has started a campaign to raise $22,582 to help the Westborough Public Schools (WPS) launch a robotics course.  The course will be offered to all seventh grade students starting in the fall of 2017.  WPS is committed to hiring a fulltime robotics teacher but needs assistance raising the funds for the equipment.
The course will teach all students to design, build, and program robots.  In addition, students will learn to program computers, to control motors, and to collect data using of a variety of sensors and they will log the results of experiments at up to 1,000 samples per second.  The course will use the incredibly powerful and versatile LEGO Mindstorms Education EV3 Core Sets because of the excellent materials in the sets, the high quality curriculum developed by LEGO, and the support that WPI can offer through their Lego Robotics training program.
"the ultimate STEM experience for young students because it incorporates open-ended problem-solving activities designed to make learning science, technology, engineering, and mathematics engaging and fun."
Dr. Mia Dubosarsky, the Director of Professional Development at the STEM Education Center at Worcester Polytechnic Institute
"By offering this course in the middle school we will increase the probability that our students will arrive even more excited and ready to take a wide array of robotics, technology, or engineering electives offered at our high school."
Superintendent Amber Bock
LEGO Education changed our school. These hands-on solutions level the playing field and create an opportunity for even the least likely students to succeed.SUZANNE HAHN - Retired Principal, East Richland Elementary School, Olney, IL
50 Mindstorm Education EV3 Core Sets
50 Mindstorms Education EV3 Core Sets need to be purchased @ $451.64 each = total $22,582.00
Please consider supporting this campaign. Your donation is tax deductible and will help all 7th grade and future 7th grade students in Westborough.
Gibbons Lego Robotics Campaign
Thank you to all our donors, we have met our fundraising goal.