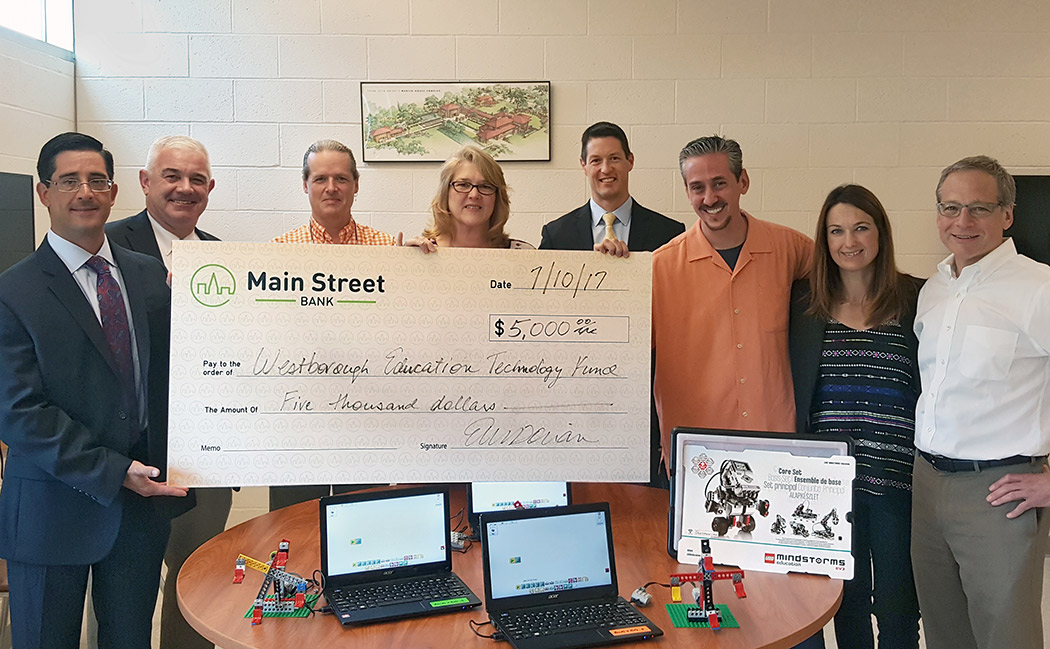 WETF PRESS RELEASE | For Immediate Release |July 11, 2017
On July 11th Main Street bank, Westborough Public Schools and Westborough Education Technology Fund graciously accepted a $5000 donation towards supporting the Gibbons 7th grade Robotics campaign.
Left to right: Sean Coyle, AVP Main Street Bank; Jack Foley, Principal Gibbons Middle School;
John Green, Director of Technology Westborough Public Schools (WPS); Amber Bock, Superintendent WPS; Ben Wallace, Co-Treasurer of the WETF; Adam Halem, President of the WETF; Dr. Anna Nolin, Vice President of the WETF; Dr. Daniel Mayer, Assistant Superintendent WPS
MARLBOROUGH – The Main Street Bank Charitable Foundation awarded the Westborough Education Technology Fund, Inc. (WETF) a $5,000 grant for the Westborough Sarah W. Gibbons Middle School Robotics Course and Curriculum.
The mission of the WETF is to support the advancement of education through the use, support, integration and public awareness of technology in the K through 12-school system for the town of Westborough, Massachusetts. Learn more about WETF at WestboroughETF.org. The grant from Main Street Bank has been applied to the goal of $22,582 needed to launch the robotics course that will be required for all 7th graders in the fall.
"We're proud to support such an innovative approach to expanding access to a technology based curriculum in our community," says Ellen Dorian, Secretary of the Main Street Charitable Foundation.
"Main Street Bank was one of the first donors to respond and embrace our request for support of the new robotics class. We at WETF and Westborough Public Schools could not be more appreciative for their generous support of this important and exciting new middle school class. This first required robotics class in Westborough will allow students the ultimate STEM experience by incorporating mathematics, science, engineering, and open-ended problem solving." Says Adam Halem, President of the Westborough Education Technology Fund.
"We are thrilled by the generosity of the Main Street Bank and the Westborough Education Technology Fund.  Without their support we would not have been able to launch this course." – Dr. Daniel Mayer, Assistant Superintendent WPS
About Main Street Bank Charitable Foundation
Main Street Bank Charitable Foundation was created to further community development in the cities and towns served by Main Street Bank and to support community organizations that contribute to the quality of life in the Bank's market. Main Street Bank was formed as a result of the merger of Marlborough Savings Bank and North Middlesex Savings Bank in 2017. To learn more about Main Street Bank, visit www.bankmainstreet.com