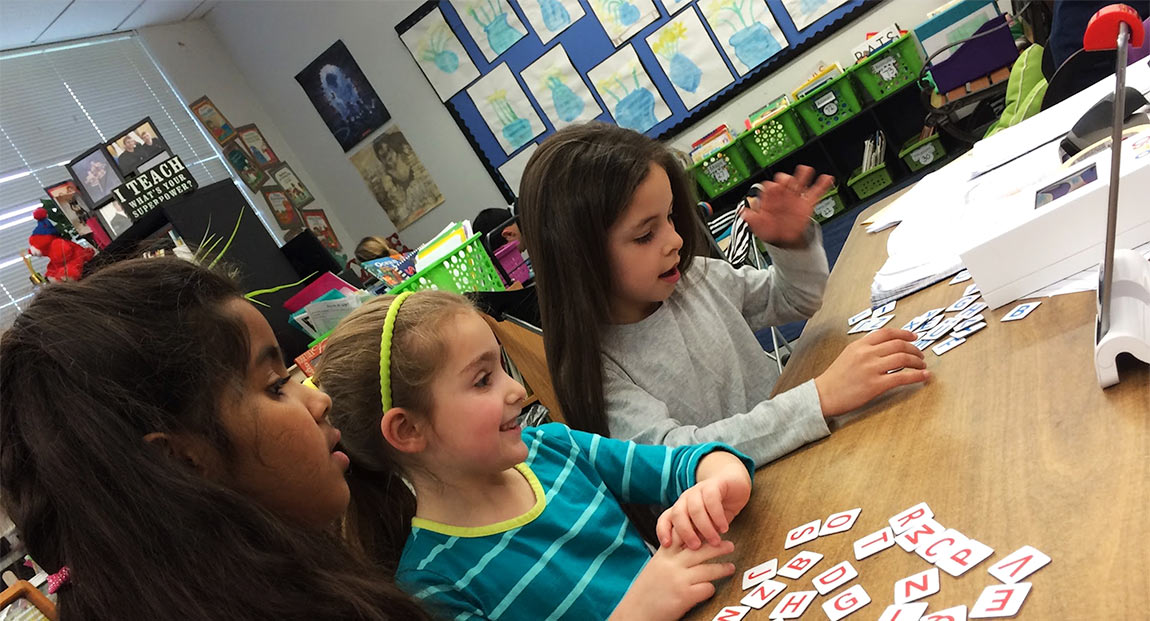 Written by Arina Khotimsky | Freshman at Westborough High School | Volunteer at Armstrong Elementary
Osmo– "It Makes you Not Want to Stop"
For many of us, the technology in our elementary school classroom consisted of a giant, box-like tv and an overhead projector. Of course, there would also be an occasional venture to the computer lab, where after a brief explanation, we were set loose upon a school-owned computer. But this is 2016. Meet Osmo.
Osmo is an interactive game system for iPads, designed to engage kids in the physical world while using technology to learn and have fun. The idea came was born three years ago when Jerome Scholler and Pramod Sharma, both Stanford alums from California and parents of iPad-loving kids, decided "to find a way to make it [the iPad] hands on, which seemed healthier to them," writes Karen O'Dell, a maker of Osmo. The pair began prototyping in a garage, and finally with many trials, Osmo took off.
To achieve the goal of being "hands on," Osmo comes with a stand and mirror for the iPad along with boxes of tiles for players to incorporate into gameplay. The iPad is placed into the stand, and the mirror is attached to the camera.The mirror then reflects the camera angle down onto the table. Five different apps can then be downloaded for free from the app storeto be used in conjunction with the tiles, mirror, and stand, as well as paper and writing utensils to turn your table into a playing field.
Adam Halem, President of the Westborough Education Technology Fund (WETF) believes that this new gameplay approach for iPads makes Osmo:
"truly a unique application…it merges the physical world with the virtual world in a way that is very appropriate for young kids, who are still learning to interact with their physical [environment]."
The apps that Osmo incorporates are designed for ages five and up, and they include: Newton, Masterpiece, Tangram, Words, and Numbers. Newton and Masterpiece use paper and a writing utensil to help kids learn to draw and experiment with physics. Tangram, Words, and Numbers come with tiles that help kids master spacial awareness with tangram puzzle pieces, letters for spelling, and numbers for practicing math facts.
Osmo is now used in over 7,500 schools in 42 countries. With so many applications already, one may wonder where else Osmo can be taken. But O'Dell writes, "Our team is growing and we hope to bring many more hands-on creative learning experiences to Osmo. We feel the sky's the limit."
With the enormous range of possibilities of applying Osmo to fun and educational settings, it was no time before news of the system reached Westborough. After reading about Osmo online at gigagom.com, Halem ordered a unit before their release. After the arrival of Osmo in October of 2014, he realized how much it was benefitting his kids.
Halem comments, "It amazed me how they wanted to play with Osmo as if it were Angry Birds but with the added benefit of teaching you to read, do math, etc!" He claims that one of the advantages of Osmo in education is that it is "great at starting off slow and building in complexity as per each student's particular needs. It also allows the teacher to edit and build their own libraries of words and more to better tailor the Osmo to the actual classroom lessons occurring. This means Osmo complements and enhances the existing curriculum."
With the educational advantage of Osmo becoming more and more noticed, Halem told Mary Johnson, the first grade teacher of Halem's son, about the fascinating system at a parent conference. Soon the entire first grade at Armstrong Elementary School became interested, and the WETF-sponsored campaign took off.
Armstrong hoped to buy four iPads and four Osmo Genius kits for each of the first grade classrooms, totaling $2,535.80. To achieve this goal, Westborough Public Schools and the WETF created a crowdsourcing fundraiser through their "Fund a Project" campaign. In the Fund a Project campaign, local teachers can request technology for classroom use, and money is donated by members of the community. In the case of Osmo, the Armstrong Parent Group matched all donations as well. By February 2016, the goal had been reached. The campaign had received $2,583, and the iPads were delivered to the classrooms.
---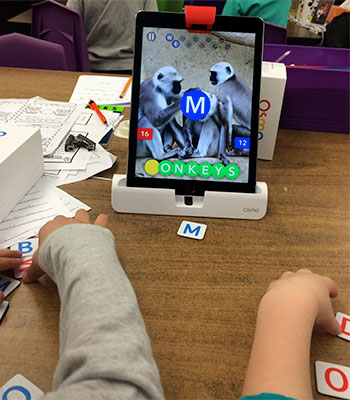 Mrs. Johnson's first graders were one of four classes to receive an iPad and an Osmo kit. "It provides them [the students] with a different way to access knowledge and work with the iPads independently," she says, "it is a tool that is flexible because they can work in teams or by themselves."
And work they do. In the classroom, a duo of boys is busy playing "Words" and learning how to spell. It is easy to see how the young students are concentrated on their game. After glimpsing at the image of monkeys on the screen, their eyes jump straight to the melee of letter tiles in front of them. Their fingers hover over, racing to find the right one before the opposing team. One of them is successful in his search–he scrambles to pick up his "M" and pushes it underneath the camera. The letter appears on the screen and he grins. "Monkeys," the iPad announces in a digitalized voice, and the game moves on.
The boys are playing the "versus" version of the game, where points are accumulated for every letter that a student manages to find in the word. "There's two people and then there's two colors, red and blue, and you guys need to versus each other, and you guys need to get to 100, and whoever gets their first wins," a girl explains.
Although competition is one way to go, Words can also be played in "Zen" version, where students simply spell the words without keeping track of points. Another girl claims she prefers Zen, "because we mostly do teamwork, and teamwork is very helpful."
No matter which version they play, it looks like something must be sinking in. "Oh, I have one–flowers," exclaims an excited student, when asked what words she has learned from Osmo. Slowly but surely, she goes on to spell the word, her friend joining in at the end. "I've learned another word; butterfly." The two recite again, smiling proudly when they finish. By this point, several other students have come over and joined in.
But the best part? One girl claims it is "pulling your cards and putting them under the screen…and getting them right!" Another student believes that the best part is "that you get to have fun!" "I would play it forever," another student says, "like not stopping even to eat food." It is near unanimous–Osmo is their favorite game.
With Osmo, kids can interact not only with a digital world while utilizing iPads, but the physical world as well. They experiment and learn how to do math, draw, make shapes, and spell. And throughout this entire process, they have fun as if it is a top-ten game from the app store.
Even if your family doesn't have a student in first grade, Osmo can still be an affordable investment. "Many people think this is a tool for classroom use only," Halem says, "It's not. It's an opportunity to buy a game for your kids that really does give back educationally."